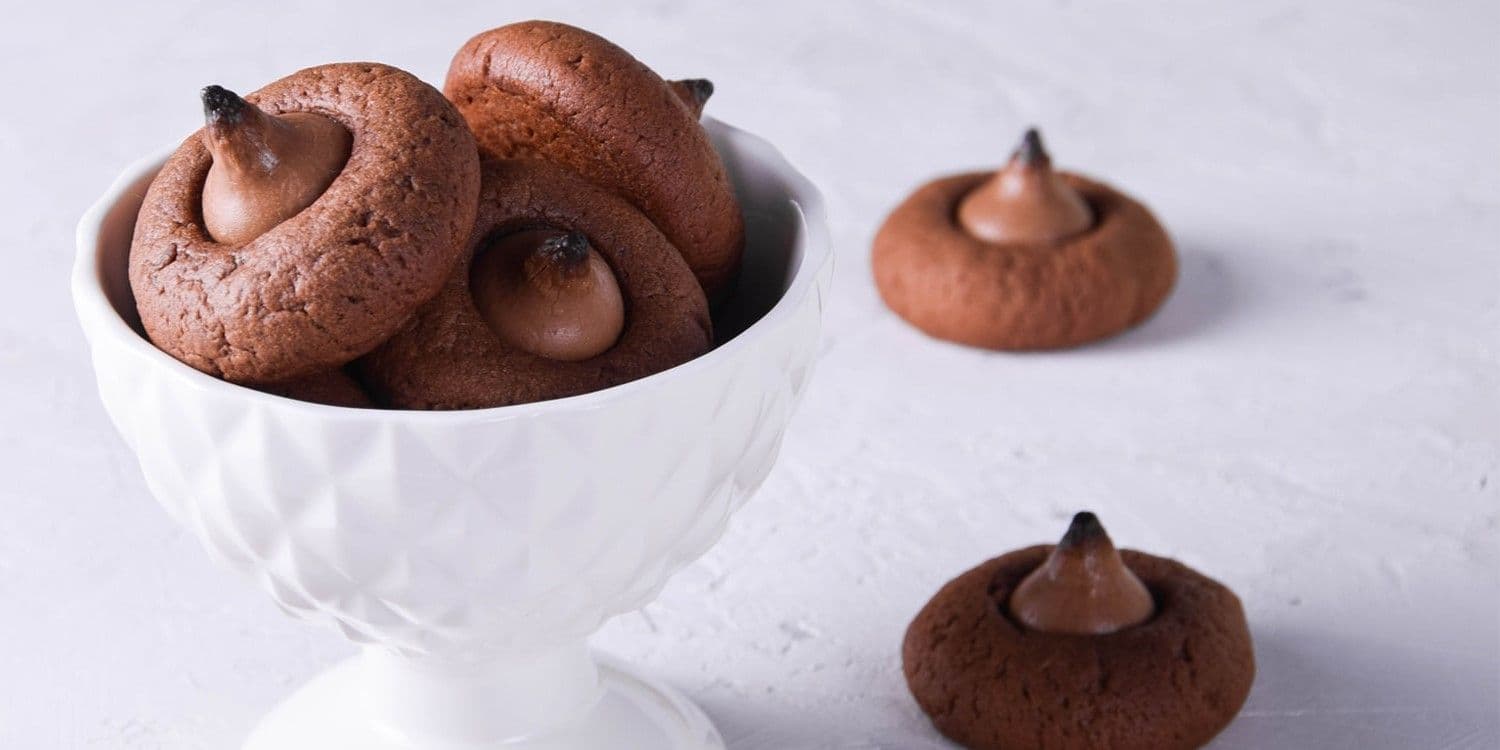 Coffee cookies with HERSHEY'S® kisses
27 January 2017



Ingredients
220g plain flour
20g cocoa powder
45ml (3 tbsp) freshly brewed espresso
1/4 tsp salt
120g butter at room temperature
100g sugar
1 egg at room temperature
1/2 tsp coffee extract
Milk chocolate Hershey's® kisses
Method
Sift together flour, salt, and cocoa powder.
With a mixer or a whisk cream together butter with sugar until pale and fluffy. In another bowl lightly beat an egg with espresso and coffee extract. Add gradually to the butter mixture while whisking.
Add dry ingredients in there and mix until smooth dough forms. It should be soft, but not sticky.
Form dough balls about the size of the walnut (you can use small ice cream scoop for that) and place them on a baking sheet lined with a parchment paper.
Place one Hershey's® kiss on top of each dough ball and press slightly. Put cookies in a fridge for about 30 minutes.
Preheat the oven to 175C. Bake cookies for 7 minutes.
Note: This post is not sponsored by Hershey's® (or anyone else for that matter). 🙂
These cookies with brownie-like texture have a perfectly balanced coffee flavour that is just enough to indulge your taste buds and is not too overwhelming.
For some people, coffee is a vital part of their everyday life. They cannot imagine waking up and start a day without a steamy cup of aromatic drink brewed with freshly ground roasted coffee beans. I am one of those people who enjoy coffee on occasions rather than drink it every morning. But boy do I love coffee flavoured desserts! When I decided to make coffee flavoured cookies I knew exactly what they should be like – thick, round, crispy on the outside but soft and crumbly on the inside, chocolatey but not too much, just to create the background flavour for the coffee highlight. And the great thing is that I managed to achieve this exact taste and texture from the very first try!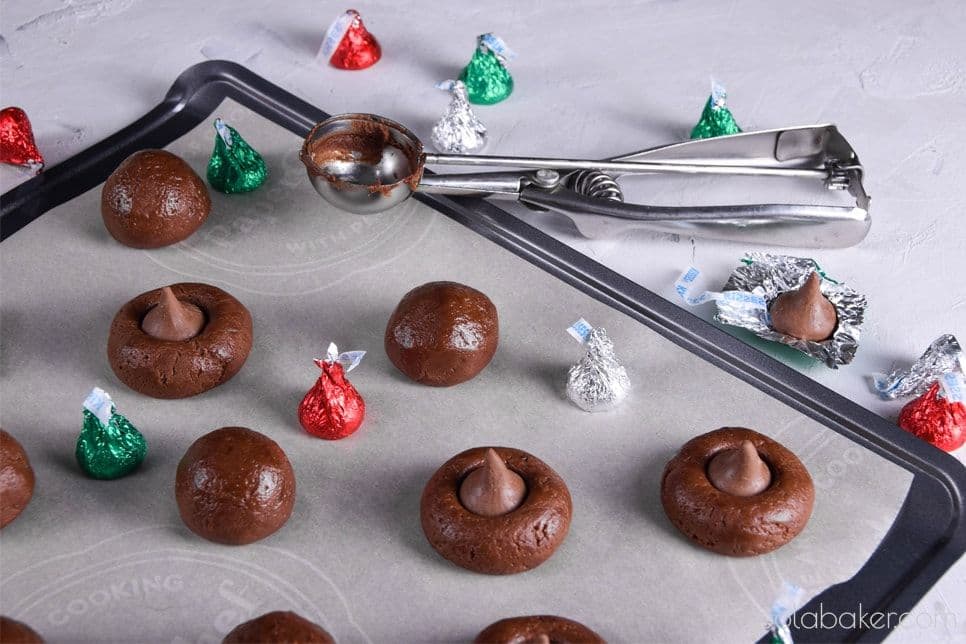 Initially, the idea of making these cookies came to me when I was sitting in my living room staring at the plate full of candy leftovers from Christmas. Yes, we still have some. Either we had too many of them in the beginning, or we're just not big fans of chocolate candy, but we can't eat them anymore. So I thought that I need to find a use for them. Where else as not in baking!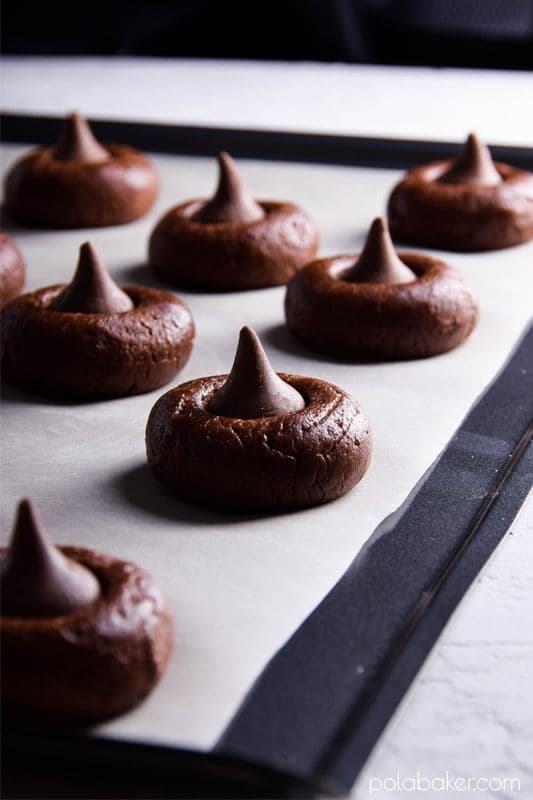 I once saw the recipe in some magazine for red velvet cookies with white chocolate Hershey's® hugs. And I just loved the idea and how they looked. The only thing is they baked cookies first, and then they inserted chocolate in the middle. In my cookies, I wanted the chocolates to be soft and cookies to bake around them (this and no-more-than-seven-minutes baking helped to achieve this brownie-like texture). The only issue I got with baking them already with chocolate was that the tips of kisses browned a bit too much (looked like burnt, but tasted normal, just a bit crunchy). I think it happened because of my old oven, that occasionally just burns everything. But just in case, place your baking sheet a bit lower than the center of the oven.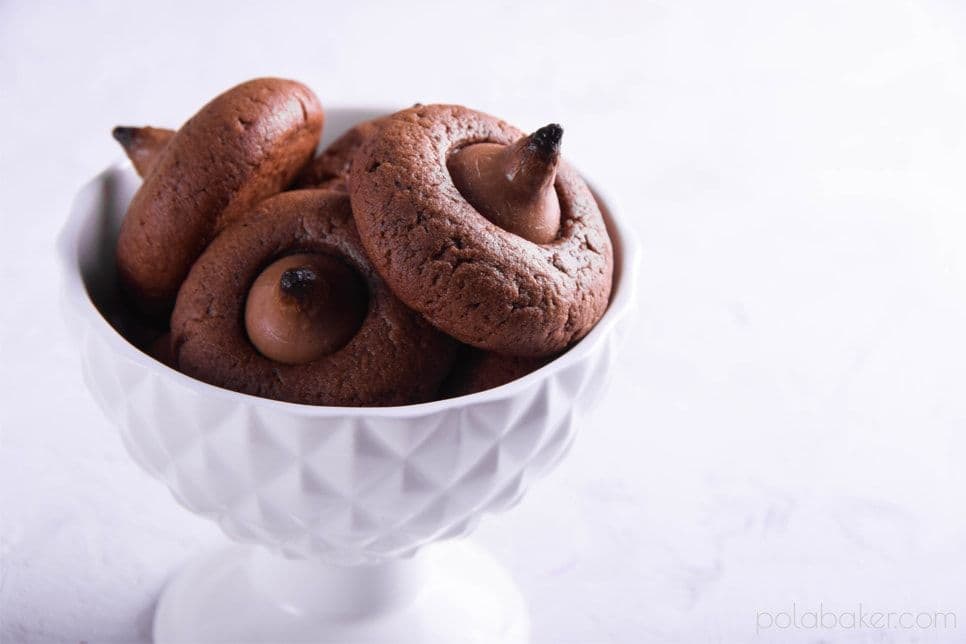 At first, I thought about making chocolate chip cookies, only with one big chocolate chip, a.k.a. Hershey's® kiss. Then I started thinking about different combinations of flavours. That night I went to bed with no exact recipe or even idea in my mind. But my wandering brain woke me up in the middle of the night and made me go to the kitchen to create these delicious coffee flavoured brownie-like cookies with milk chocolate inserts.
Save this for later