Cranberry pie cookies
5 December 2020



Ingredients
For the dough:
250g butter, room t
100g sugar
a pinch of salt
zest of 1 orange (reserve juice for the filling)
2 eggs
400g flour
For the filling:
100g dried cranberries
50g sugar
60ml red wine (grape juice for non-alcoholic version)
40ml orange juice
1/4 tsp ground cinnamon
1/4 tsp ground cloves
For the glaze:
240g icing sugar
45ml water
Method
In a large saucepan combine dried cranberries, sugar, red wine, orange juice, and spices. Bring the mixture to a boil. Cook for a couple of minutes until sugar is dissolved. Let it cool slightly. Transfer the filling to a food processor and process until cranberries are finely chopped. Cool completely.
In the meantime prepare the dough. Beat butter with sugar and orange zest until light and fluffy. Add eggs one at a time. Then add flour with salt and mix just until the dough forms. Wrap the dough in a plastic wrap and refrigerate for 30 minutes.
Preheat the oven to 180C. Roll out the dough about 2mm thick. Cut out circles (I used a 6cm cookie cutter). Put about 1/2 teaspoon of a filling on half of the circles and top with other circles. Press around the edges with a fork. Transfer cookies on a baking tray lined with parchment and bake for 13-15 minutes until lightly golden around the edges. Let them cool.
For the glaze sift icing sugar and mix it with water until smooth. Drizzle glaze over cookies and let it set.
DAY 5.
If cranberry pie was a cookie.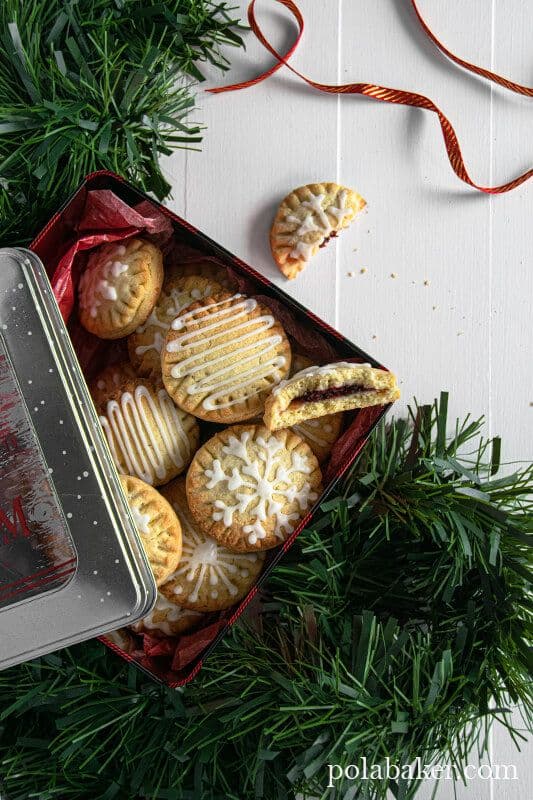 Save this for later