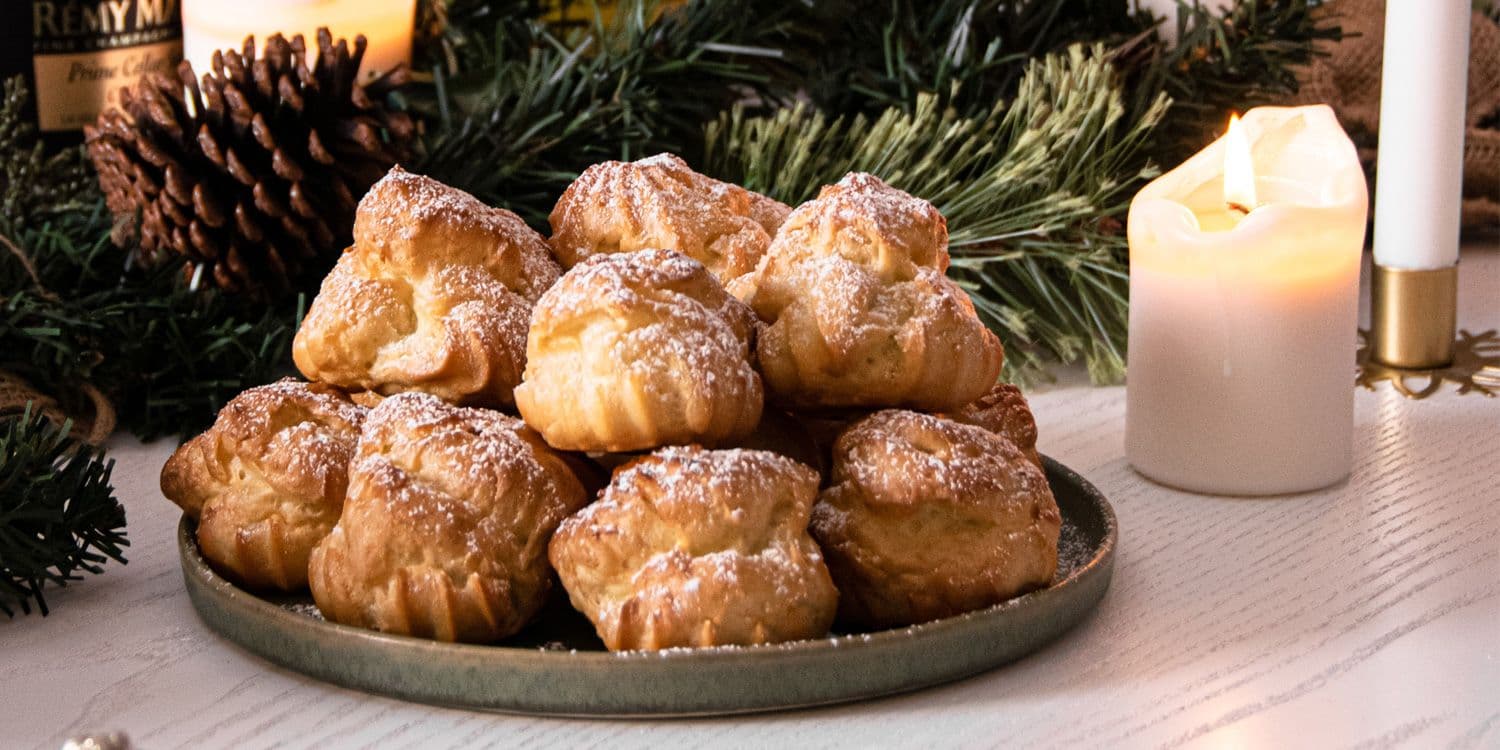 Eggnog profiteroles
12 December 2020



Ingredients
Batter:
50g butter
125ml water
a pinch of salt
65g flour
2 eggs
butter for baking pan
Filling:
240ml eggnog (homemade or store-bought)
2 egg yolks
50g sugar
20g cornstarch
15g butter
50ml double cream
2 tbsp dark rum/bourbon (optional)
Method
Prepare pastry cream for the filling. Heat eggnog in a saucepan until steaming (but not boiling). In a bowl, whisk together egg yolks with sugar and cornstarch. Add a couple of tablespoons of hot eggnog to the egg yolk mixture and whisk until smooth. Then pour the rest of the eggnog to the bowl and mix well. Pour the mixture back to the saucepan and cook, whisking constantly, until it thickens. Remove from the heat and mix in the butter. Transfer the cream to a bowl, cover with clingfilm so it touches the cream, and put it in a fridge to cool completely.
Preheat the oven to 200C. Rub large flat baking tray with cold butter and set aside.
In a medium saucepan heat butter with water and salt and bring to boil. Remove from the heat and add flour all at once. Stir well with a wooden spoon or a spatula. Place the pan back onto the heat and continue mixing until a ball of dough forms. Transfer the dough into a large clean bowl and let it cool a bit (it will cool faster if you spread the dough around the sides of a bowl). Add the eggs, one at a time to the dough and mix well. Transfer the batter into a piping bag fitted with 1cm nozzle and pipe walnut-sized rounds onto prepared pan. Bake for 20-25 minutes until puffed and golden brown. Let the profiteroles cool.
Finish the filling. Beat cooled cream until smooth, mix in alcohol if using, then gradually add the cold double cream, while mixing. Transfer the filling into a piping bag.
Cut a small hole at the bottom of each profiterole and pipe the filling inside. Arrange profiteroles on a plate and dust with icing sugar before serving.
DAY 12.
Woohoo! We're halfway through the calendar, can you believe how fast time flies? It's just 12 days till Christmas! Have you done some festive activities yet? I know this year everything is very different, but we still can enjoy pre-Christmas time:)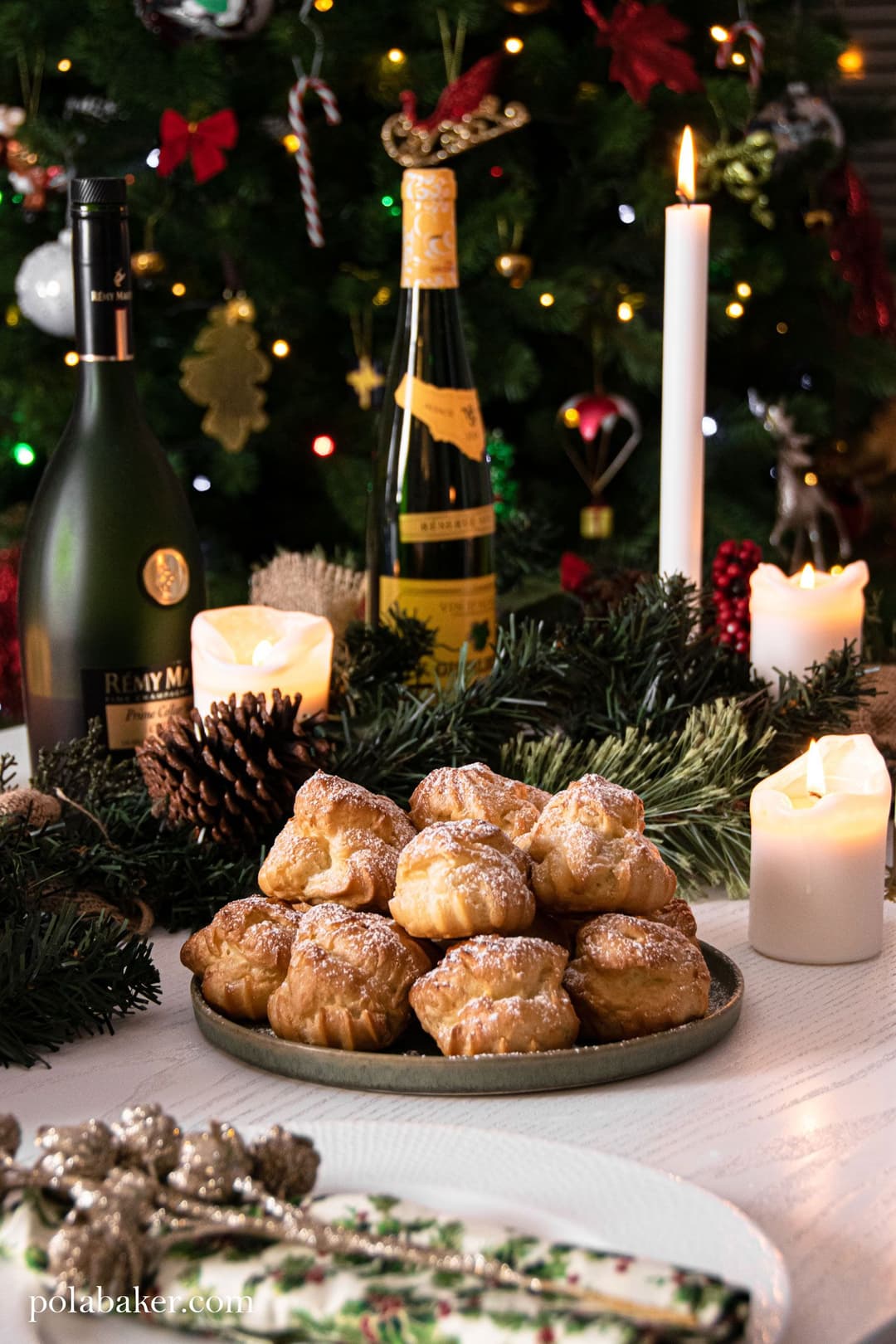 Today I'm sharing with you one of the dessert ides for Christmas day. Eggnog profiteroles.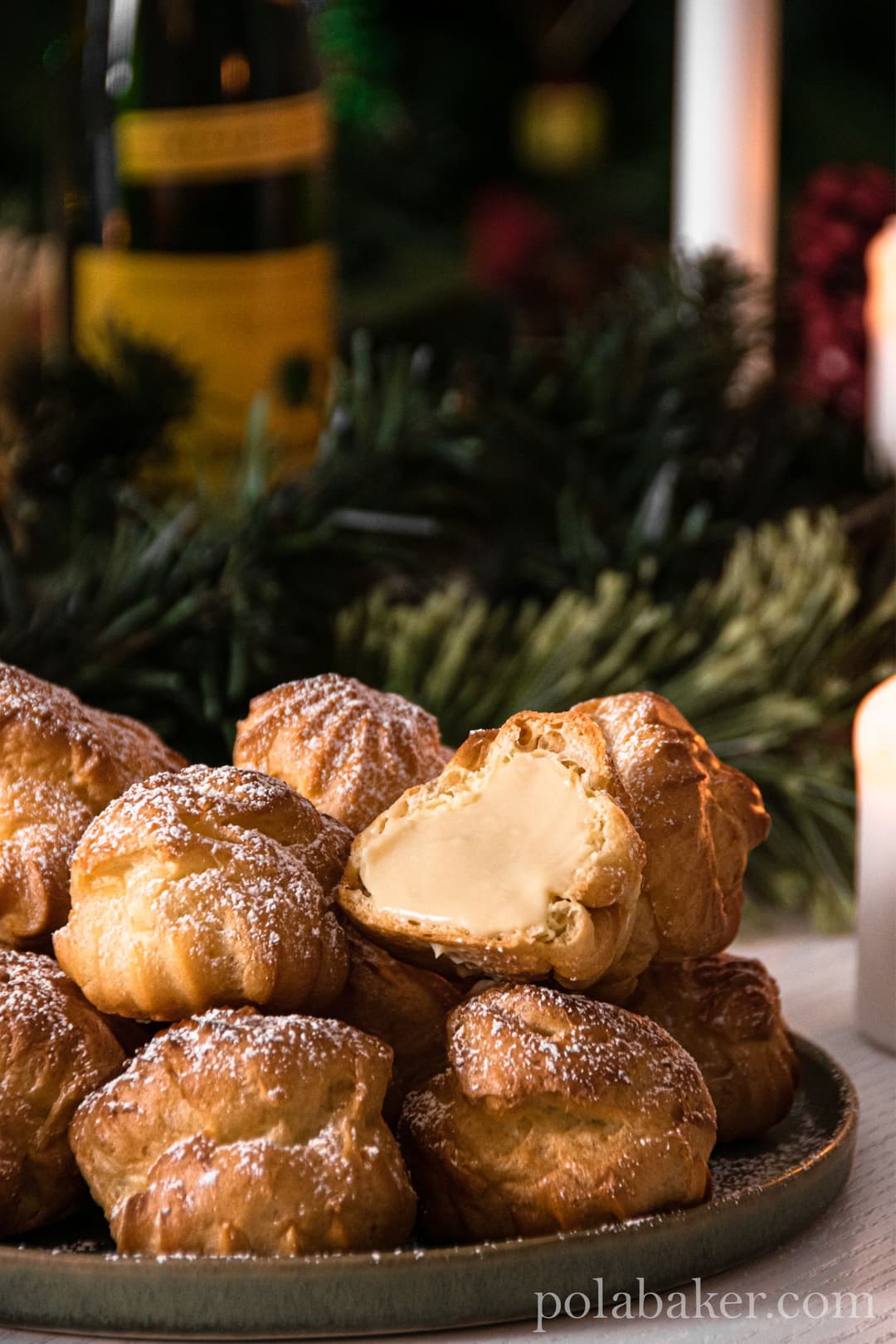 Save this for later