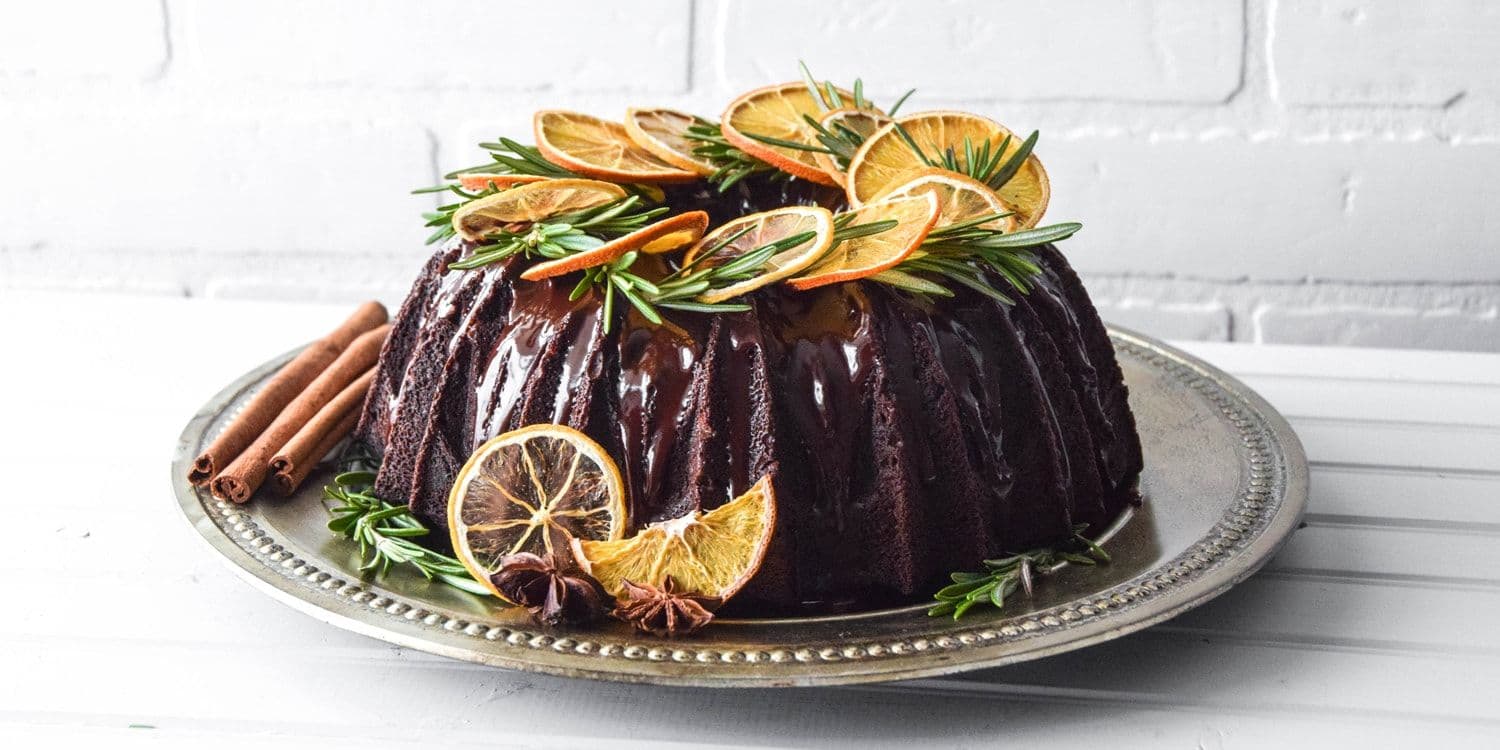 Mulled wine bundt cake
18 December 2017



Ingredients
Mulled wine:
1 orange, sliced
1 lemon, sliced
2 slices of fresh ginger
2 cinnamon sticks
1 tbsp whole cloves
2 tsp whole allspice
350ml red wine
1 tbsp sugar
Cake:
230g butter, softened
250g brown sugar
3 eggs
1 tsp vanilla extract
200g flour
75g cocoa powder
1 1/2 tsp baking powder
1 tsp ground cinnamon
1 tsp ground ginger
3/4 tsp baking soda
1/2 tsp ground cloves
1/2 tsp ground allspice
1/2 tsp salt
zest of 1 orange
180g sour cream
130g dark chocolate, chopped
Glaze:
170g dark chocolate, chopped
80ml whipping cream
Decoration:
dried oranges and lemons
rosemary sprigs
Method
For the mulled wine place oranges, lemons, ginger, all the spices, and sugar into the saucepan and add red wine. Bring it to simmer over a medium heat, then reduce the heat and let it simmer for 15 minutes. Take 1/2 cup of mulled wine and reserve it for the cake batter. Continue to simmer remaining wine until reduced to 2 tablespoons. Strain the wine to remove all the fruits and spices.
Preheat the oven to 160C.
For the cake batter cream together butter with sugar and orange zest until light and fluffy. Beat in the eggs, one at a time, add vanilla extract.
In a separate bowl sift together flour with cocoa, baking powder, soda, salt, and all the spices.
In a small bowl mix together sour cream with 1/2 cup mulled wine.
Stir flour mixture into butter mixture, alternating with sour cream mixture. Fold in chocolate.
Pour batter into greased bundt pan and bake for about 1 hour, until the wooden pick inserted in the middle comes out clean. Let the cake cool completely before glazing.
For the glaze melt chocolate over a water bath. In a saucepan warm up the whipping cream. Pour the cream into the melted chocolate and mix until smooth. Add 2 tablespoons of mulled wine, mix well. Let the glaze cool for 5 minutes, so it's not too runny. Pour it over the cake and decorate with rosemary and dried citrus fruits.
Day 18.
Rich dark chocolate bundt cake with mulled wine. Beautiful centrepiece for your Christmas dinner!
You can decorate the cake with dried oranges from yesterday's post.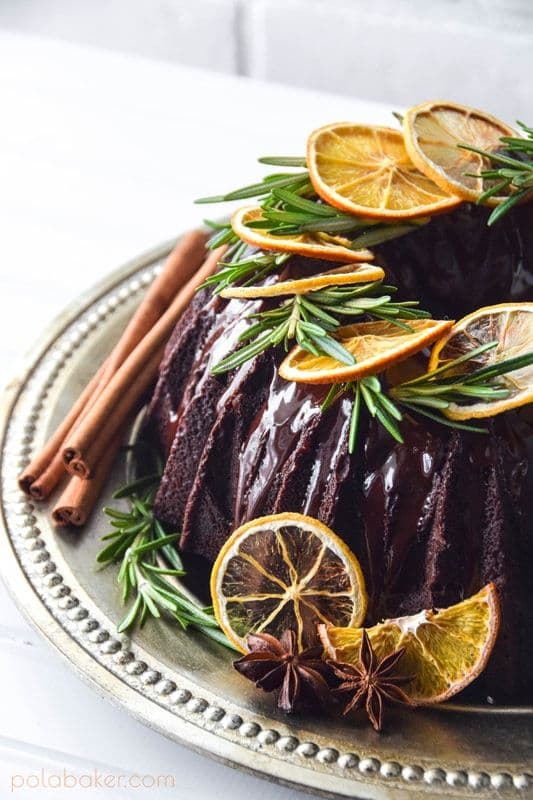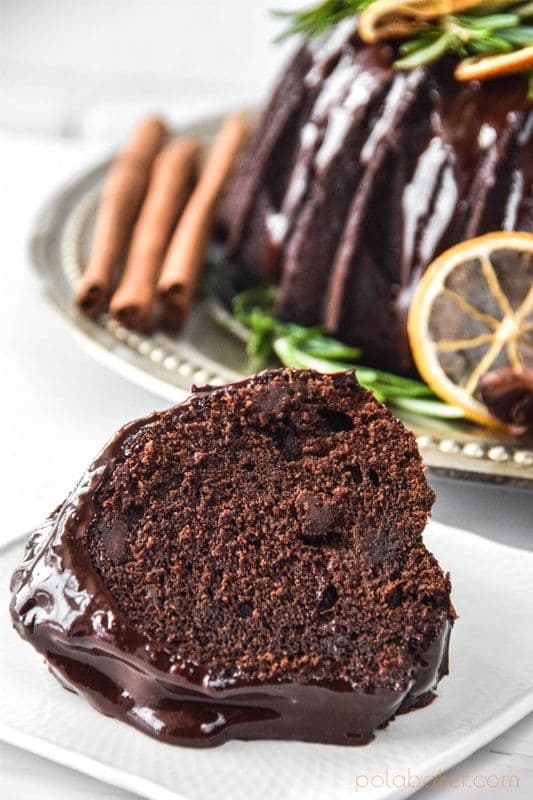 This recipe is from Canadian Living Magazine. I just made some insignificant changes in the recipe (I put more fruits in mulled wine, I didn't put any syrup in the glaze and I decorated the cake differently).
Save this for later