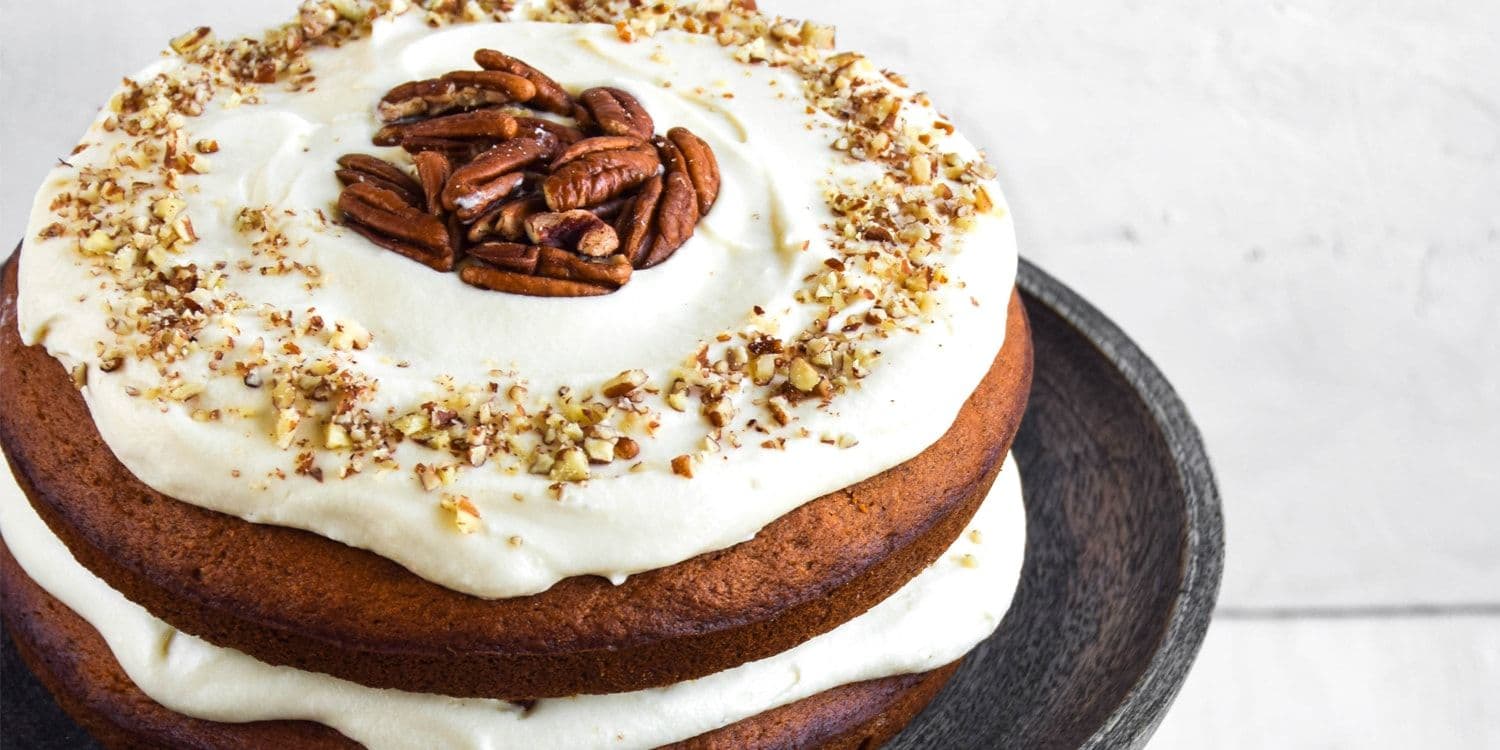 Pumpkin cake with maple frosting
16 October 2016



Ingredients
Layers:
100g brown sugar
100g white sugar
2 eggs
225g pumpkin puree
120ml light olive oil
125g plain flour
1 tsp baking powder
1/2 tsp baking soda
1/2 tsp salt
1 tsp ground cinnamon
1/2 tsp ground nutmeg
1/2 tsp ground ginger
Frosting:
225g unsalted butter, softened
170g cream cheese
240ml maple syrup
150g powdered sugar
1 tsp vanilla extract
Pecans for decoration (toasted and chopped)
Method
Preheat the oven to 350C. Cover two 15cm round baking pans with a non-stick spray.
In a large mixing bowl combine together brown and white sugar, eggs, pumpkin puree, and olive oil.
Add flour, baking powder, soda, salt, and all the spices. Mix well until everything is incorporated.
Divide batter between pans and bake for 30 minutes. Let it cool on a wire rack.
Meanwhile, for the cream, beat butter with cream cheese with a mixer, add maple syrup and vanilla extract.
Sift icing sugar and add it gradually to the maple cream. Mix until light and fluffy.
If cream appears to be a bit runny, put it in the fridge for 10 minutes.
Spread half of a cream on a first layer, top with the second layer and spread the rest of the cream on top. Chop some pecans and sprinkle on top.
Chill for at least 1 hour before serving.
This pumpkin layer cake with maple butter cream cheese frosting and toasted pecans is just right what you need for the fall season! Especially for Thanksgiving. 🙂
It will take you less than two hours in total with all the cooling and decorating to make this delicious, moist, flavourful cake with fully-flavoured buttery maple cream.
I'm not a big fan of cream cheese frosting with lots of powdered sugar, so I created the recipe where you will need mostly maple syrup! Just chill cream in the fridge for 10 to 15 minutes before using if it looks too runny for spreading.
Save this for later