Skillet orange blondie with white chocolate and blueberries
25 April 2020



Ingredients
115g butter, melted
100g sugar
1 egg
1 tsp vanilla extract
zest of 1 orange
3 tbsp orange juice
1/4 tsp salt
140g flour
100g white chocolate chips
1 cup fresh blueberries + extra for serving
ice cream for serving (optional, but highly recommended!)
Method
Preheat the oven to 175C. Brush skillet with butter or oil.
In a bowl whisk together melted butter and sugar. Add the egg (make sure the butter is not too hot!), vanilla extract, orange juice, and orange zest.
Add salt and flour and mix until smooth.
Add blueberries and chocolate chips and mix thoroughly.
Press the batter into prepared skillet and bake for 20-25 minutes. It is better to take it out when it is slightly undercooked in the middle.
Serve warm with a scoop of ice cream and fresh blueberries.
This skillet orange blondie with white chocolate and blueberries is one of my go-to comfort food desserts at the moment. I like it for its simplicity and the fact that you can (and should!) eat it straight out of the oven. This means that if you're craving something sweet, you only need to spend about half an hour, and you'll be good!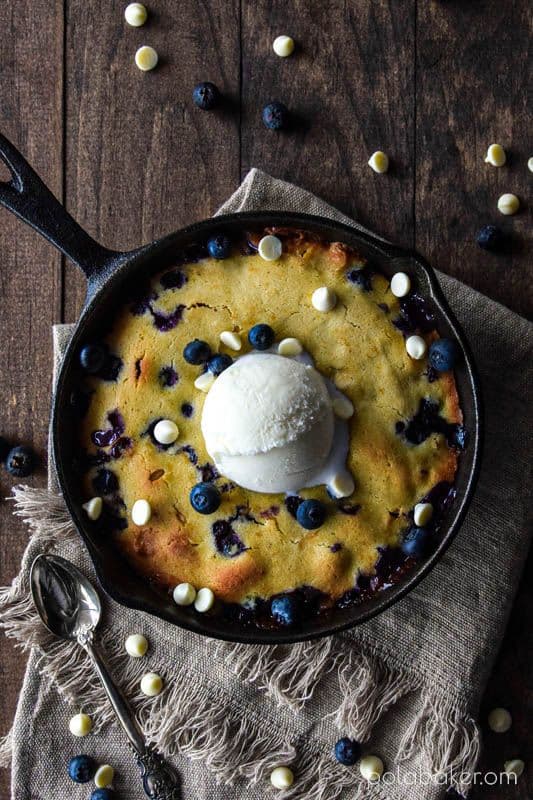 If you don't have a skillet, don't worry, you can use a regular cake pan instead.
You can also use any other berry of your choice instead of blueberries. I just wouldn't recommend using strawberries because they have high water content.
Let me know what berries you prefer to use in baking in the comments below. My personal favourites besides blueberries are raspberries and red currants.
Enjoy!
Save this for later