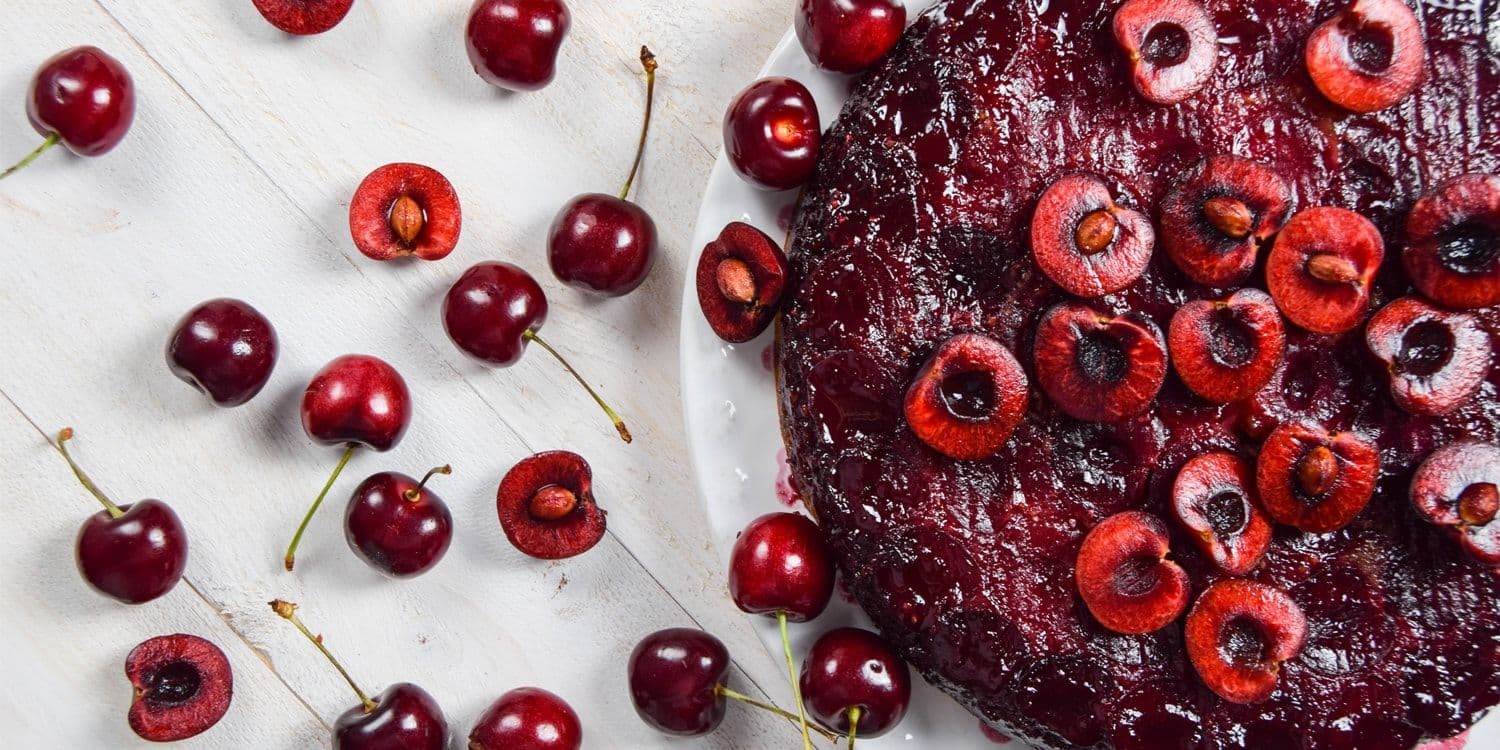 Upside-down sweet cherry cornmeal cake
9 August 2017



Ingredients
70g brown sugar
110g unsalted butter, softened (113g in the original recipe)
45g unsalted butter (42g in the original recipe)
3/4 tsp salt
1/8 tsp salt
570g cherries, pitted and cut in halves
100g granulated sugar (150g in the original recipe)
Zest of 1 lemon
2 eggs
150g cake flour*
55g fine cornmeal
1 1/2 tsp baking powder
1/4 tsp baking soda
180g buttermilk
1 tsp vanilla extract
*to make cake flour take 1 cup of plain flour, remove 2 tablespoons and add 2 tablespoons of cornflour instead. Sift 3-4 times.
Method
Preheat the oven to 180C. Line 22cm springform with baking parchment, butter pan and parchment.
In a medium saucepan, melt butter (45g) with brown sugar and salt (1/8 tsp) over a medium heat. Cook until sugar is dissolved. Pour mixture into prepared pan. Arrange cherries in a single layer on top of the butter mixture.
In a bowl cream together butter (110g) with granulated sugar and lemon zest for 3-4 minutes, until fluffy, stopping to scrape sides of bowl. Add eggs, one at a time, beating well after each addition.
In another bowl combine together flour, cornmeal, baking powder, baking soda, and salt (3/4 tsp). In a small bowl, stir together buttermilk and vanilla.
Gradually add flour mixture to butter mixture alternately with buttermilk mixture, beginning and ending with flour mixture, beating just until combined after each addition. Spread batter onto cherries. Firmly tap pan on counter to settle batter between cherries and release air bubbles. Place pan on a baking sheet.
Bake for 40-50 minutes, until golden and a wooden pick inserted in center comes out clean. Cover the top with foil halfway through baking to prevent excess browning. Let it cool in a pan, then carefully remove the ring and place the cake upside down on a serving plate.
Adapted from Bake from Scratch
I love cherries, especially the tart ones. But in this upside-down cake, sweet cherries is exactly what you need.
I found this recipe in the Bake from Scratch magazine (May/June 2017). I put "to try" tag on it and completely forgot about it for a couple of months until now. 😀 I made a few changes while making it, for example, I didn't have any cake flour, so I made it myself. To do this, you need to take 1 cup of plain flour, remove 2 tablespoons from there, and add 2 tablespoons of cornstarch instead. Sift it together 3-4 times, and voila, you have a cake flour! 🙂
Also, I made a mistake with the cornmeal. The original recipe didn't specify this, but, as it turns out, it's better to use fine cornmeal. I had only coarse cornmeal at home, and I didn't know it would make such a big difference. The cornmeal didn't cook through, and you could feel those hard grains while eating. It wasn't a complete disaster, but it could've been more pleasant. 🙂
And the last thing is sugar. It always happens to me. When I try someone's recipe, no matter how amazingly delicious it is, 9 times out of 10 it will be too sweet for me. What I usually do, in case it turns out to be the right amount of sweet, I make it first time with no alterations whatsoever, and I try it. And if there is something I don't like, I take notes and try it once again with all the adjustments. So, now I know that next time I'm making this Sweet cherry and cornmeal upside-down cake, I'm reducing the sugar amount in the batter by at least 50g. But again, it's all about your taste. You may like it the way it is. 🙂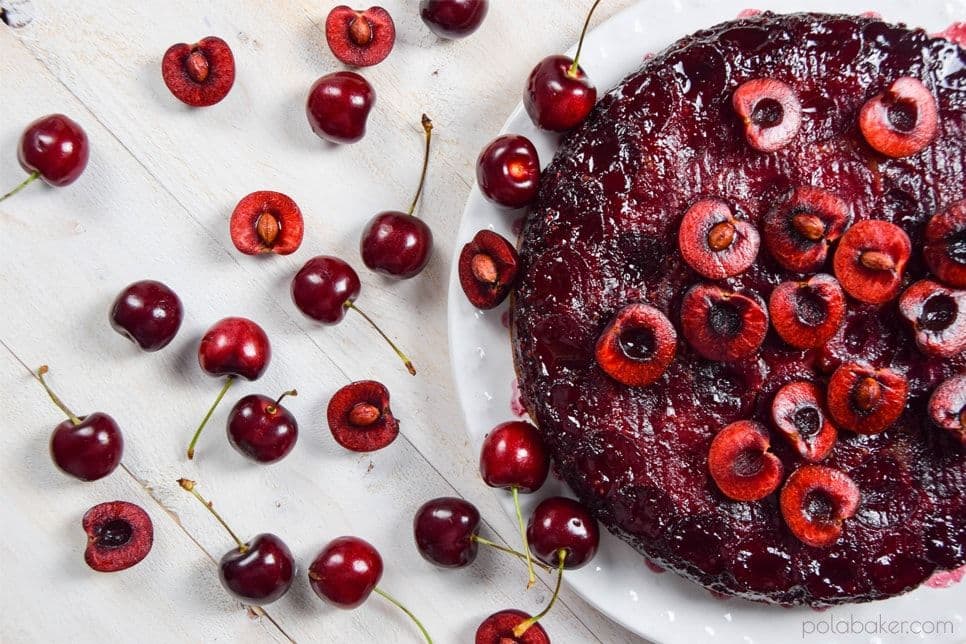 Save this for later